Estate Grown, Tuscan Olives, Extra Virgin Olive Oil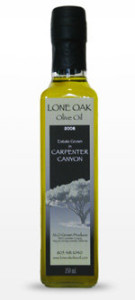 Lone Oak produces fresh, flavorful oil. Unlike wine, olive oil is ready immediately for consumption at harvest and has the freshest flavor. Our oil is unfiltered. Olio Nuovo (New OIL) is highly prized for flavor in Italy at harvest! It is important to understand olive oil will gradually change in flavor losing the fresh component, and becoming more buttery with time. Lone Oak recommends buying fresh oil soon after harvest. Store oil in a cool, dark place and consume your oil within a year.
Our Tuscan Olive Oil is consistently achieving gold medals, at the annual California Olive Oil Council competition. These competitions are validating the balance in our flavor profile: a fruity nose and taste, slightly grassy on the palate and a mild pepper at the finish.
Tuscan Blend Olive Oil:
250 ml bottle – $15.00 ea     /    4 or more 250 ml bottles – $12.50 ea
Lone Oak extra virgin olive oil is sold locally at San Luis Obispo County markets. Contact Nancy through our Facebook page for olive oil information and Farmer's Market schedules:
Monday Baywood Los Osos Farmers Market
2:00 to 4:30 pm
Santa Maria Ave between 2nd and 3rd Streets in Baywood Park
Wednesday Afternoon Market
8:30 to 11:00 am in the Smart & Final parking lot
1464 East Grand Avenue, Arroyo Grande
Thursday Afternoon Market
2:30 to 5:00 pm in Spencer's Fresh Markets parking lot
2650 Main Street, Morro Bay
Saturday Morning Market
8:00 to 10:45 am in The Promenade parking lot
325 Madonna Road, San Luis Obispo
(by Cost Plus World Market)
Saturday Afternoon Market
12 noon to 2:30 pm at the corner of Mason and East Brach in the Village
300 East Branch Street, Arroyo Grande